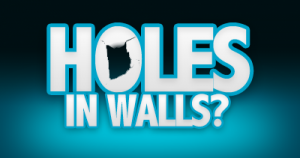 Many of our customers come to us for our quick, professional wall repairs.
Throughout daily life it is surprising just how easily plasterboard walls can sustain unsightly damage. Small bumps and knocks from the kids running around, furniture being hastily moved – even an angry boyfriend – all these and more can easily put large holes in your walls.
Doors without stoppers flung open – doorhandles can impact walls and punch holes
Old furniture or TV mounting bracket screw-holes – we Fix & Finish ready to paint
Plasterboard Patches over medium sized holes (from hand-sized to a dinner-plate)
Wall Panel section replacement (more than a square metre of damaged wall)
Fire, Water, Mould or Mildew Damage to Wall Panels or base-board areas
Even for a skilled home handyman it takes time, money and experience to patch gyprock walls and plasterboard without having to replace an entire wall panel. If not done correctly these types of wall repairs will often still be visible even after filling, sanding and re-painting.
During small renovations around the home you will often find old screw or mounting holes in your walls or ceilings from  permanent shelving units and wardrobes, holes from old plumbing in wet-area walls that were covered by vanities or even unused electrical outlets that have been improperly covered up by previous renovators.
Whether you're an avid home renovator, in property management, or simply a residential tenant who needs repairs done before your next house inspection – we're the people to call.
We do this kind of work every day, and can have small wall patches and repairs done in as little as a couple of hours!
Get your Plasterboard Wall Repairs done professionally the first time, every time. We work quickly and efficiently and save you the hassle and the uncertainty!
Call Silverlinings Walls and Ceilings today for a free quote on wall repairs - 0401 609 472